Hildene Show

&nbsp:
The Hildene Car Show is a two day affair held every year in mid June at the Hildene Meadowlands, a large tract of land in the Battenkill Valley at Manchester, Vermont. The acreage was once the grazing pastures for the livestock of Robert Todd Lincoln, eldest son of President Lincoln. Three hundred feet up the hill is the lovely Hildene Mansion built in 1905.

This Georgian Revival style home served as the summer residence of Robert Todd Lincoln's family and was occupied by descendants of President Lincoln until 1975, at which time it taken over by the Friends of Hildene, a non-profit organization to preserve it and open it for visitors from around the world.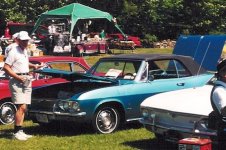 The show is just one of many events held at the Meadowlands, and in 2001 it saw a record number of entrants, a total field of 856 cars. There were an unsually large number of Corvairs, and Steve faced stiff competition from all over the northeast as well as the Mid-Atlantic. Steve's beauty is a 1966 110HP Monza Convertible modified slightly; he drilled out cylinder head cooling fin flashing to help reduce engine running hot. Best to be safe in summer driving in the hills of the East!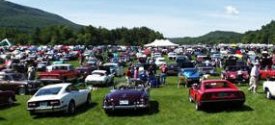 In addition to the car show itself, there were a number of other events, including a flea market, toy show, valve cover racing and a parade. The large showing of Corvairs should be an inspiration for othe club members to join Steve in 2002 and make this a real celebration of the increasingly popular Corvair!