THE THOMAS' CORVAIR BIOGRAPHY!
1964, Indianapolis, Indiana
"I have graduated from high school, found a nice job and am continuing my education at night. Public transportation in Indianapolis was great but, after about a year of using this method of getting everywhere, I decided it was time to look for a car for myself. My dad agreed to go with me to find something that would fit my needs. I had an idea of what I would like so we headed for the Chevrolet dealerships. We had to go at night after dad got home from work, but he felt that was good, because he would be able to spot imperfections and dents along the body better in the car lot lights. On our first visit to the first lot I found it - a 1960 corvair, 4 door sedan, red inside and out. I loved it from first sight. We bought it and it took me, my sister and friends everywhere.....
I had it for less than two years because after I met and married my husband, Jerry, we lived out of the country while he completed his military obligation. But I never forgot my first car and every once in a while we would talk about finding another Corvair to have just for fun. Jerry looked a couple of times on the internet to see what was available but they were always too far away from where we live in Greenwich, or in such poor condition that we were not interested.
Then in the spring of 2005 while reading our weekly newspaper I saw an article and picture about the Monday night cruise-ins. I showed it to Jerry and he said, "yes Greenwich has a cruise-in every Monday night". I said, "no, look at the picture". It was a 1964 corvair convertible with a "for sale" sign in the front window. The next Monday night we went to the Cruise-in to see if that car was there, but it was not. The sign-in book had the name of the owners but no other information. We asked around and someone said they thought they may know who owned the car and would pass along our information to them.
A few nights later in that week we came home and there was a message on our answering machine from the Corvair's owner. We made arrangements to meet with him and drive the car. It wasn't perfect but it was good enough for us to make a deal and we bought my second Corvair, almost 40 years after my first.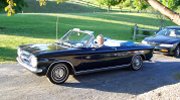 As they say, the rest is history. A couple of visits to Cotrofelds magic Corvair garage in Arlington Vt. And our little Daytona Blue with metallic blue interior runs great, looks respectable and is reliable enough to take us on many week-end & evening rides, just as soon as the weather permits in the spring and for as long into the fall as we can before the weather turns too cold for us to out in a convertible with no heater. [at the moment]
But that really isn't the end of our Corvair love story. In November, 2006 we decided to purchase a 1966 Corsa turbo convertible, which is wintering in Arlington VT. We are excited to be able to watch this car's transformation from it's original state of last being registered in 1977 to a full restoration. We also hope we will not be spending all our retirement savings, so I can still retire this summer and actually drive one of these cars."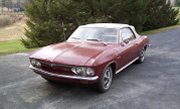 - Diane Thomas