There is not much news to report this month. No car shows and everyone has put their car away for the winter. Well, everyone except Steve Ruggles. He had his out Sunday.
We had our Nov. lunch meeting Sunday at the "Kobe buffet" in Latham. Members present were; Peter and Carol Callesano,. Steve and Sherri Ruggles, Harold and Cindy Basset, Jerry and Diane Thomas, Walt And Jean Newell, Christian Glander, Carl Boyd, Neil Rose and our newest member, Albert Ellis.
Our Christmas party meeting has been set for Dec. 9 from noon til five PM. Everyone bring something to eat. Anything from Veggies to Italian to beans to desserts. Please call Kris Tullock at 399-0666, who is our food co-ordinater, and let her know what you intend to bring. Or email her at kittykatkris@nycap.rr.com.
If you would like to participate in the present exchange, bring a present valued at around $10.00, and mark it male or female. The women don't appreciate automotive items as presents. Unless, of course it's a NEW auto.
All this "holiday fun and camaraderie" will take place at the "Rexford Fire house", which is located on Rte 146 in Rexford. Take the Northway [I 87] to exit 9, then go west, follow rte 146, when it turns left, the firehouse will be on the right.
If you can't make it, Have a Happy Holiday anyway.
Walt , for the President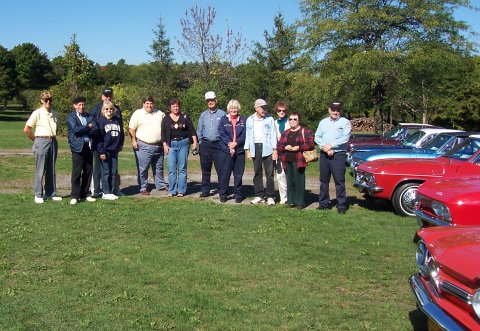 Somebody is missing?