Dear Members:
The July Picnic/Meeting was held at the Callesano's backyard playground. In attendance were Harold and Cindy Bassett, Harold Behlmer, Carl Boyd, Carol, Peter & Maggie Callesano, Hilda Groesbeck, Neil Rose and Steve and Sherrie Ruggles. We had more than enough food and drink, good fun and Corvair conversation. So sorry more of you couldn't be there. Maybe next year!
As for an August event. If you are interested, we are interested ! How about and old fashioned drive in movie? Would like to attend the Malta Drive In Movie at the end of August? If so, I will arrange a special section for our members and provide snacks and drinks. Please e-mail or call me 518 584-9306 if you think you would like to participate before August 15. If there is little or no interest we will see you in September. A club is only as good as it's members.
Regards, Peter Callesano, President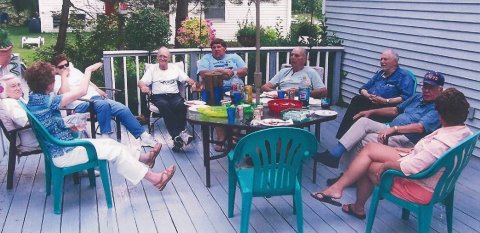 New York Legislature at Work
( No, this refers to the article below, not the erstwhile club members above! )
New York Grille Guards: The SAN again defeated legislation to prohibit the use of grille guards attached to a motor vehicle's chassis in New York. The measure relied on unsubstantiated claims that grille guards create the potential of greater harm to other vehicles in the event of a collision and obstruct airbag sensors, rendering the airbags useless in an accident. The bill sought to require owners of vehicles currently equipped with grille guards (including those purchased with this equipment from a dealership) to remove these guards. New York Spinners: The SAN again defeated legislation to prohibit the operation of motor vehicles equipped with spinner hubcaps in New York. The bill would have subjected vehicle owners to fines of up to $750 for a third or subsequent violation. The measure also ignored the fact that custom wheels are not prohibited by federal law; manufacturers are required to notify the federal government of a safety problem or defect related to motor-vehicle equipment within five days of becoming aware of such issue; and spinner hubcaps have no proven detrimental effect on motor-vehicle safety. New York Tires: The SAN defeated two pieces of New York legislation dealing with tires. The first would have required all motor-vehicle tires, except those intended for vehicles over 10,000 pounds, to carry a date of manufacture molded on both sides. SEMA opposed the bill because the date of a tire's manufacture is already on the sidewall as part of the Tire Identification Number, and because no scientific data exists on when tires are "too old" for use. SEMA also defeated legislation that sought to require the development of a statewide program to mandate that replacement tires for passenger cars and light trucks be as energy efficient as tires sold as original equipment. As in Connecticut, the bill contained a SEMA-drafted exemption for some hobbyist tires, including limited-production and off-road tires.