Our Christmas Party
The Capital District Corvair Club's annual Christmas Party was held at Bob and Arlene Dalrymple's beautiful home in the hills above Saratoga Lake.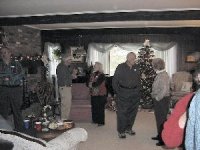 As always, the food of all kinds was delicious, the gathering and socializing was festive, the grab bag gifts exchange was full of surprises and the election of officers was unanimous and to everyone's liking except possibly the officers, who, having done so well over the past year, were rewarded with another year of duty!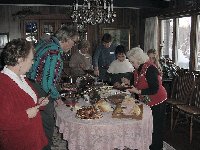 The buffet spread had delicacies from salads to several entrees to desserts, to tempt and be enjoyed by evey one of us! The feast left us relaxed but anxious to get to the grab bag gift swap.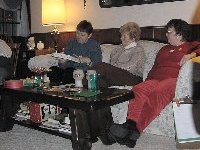 After our buffet, we had a random drawing for gift selections. The surprises were enjoyed by all, and a 50/50 drawing was held as well to help build our treasury. This was followed by the election of new officers.