So, You Want to Drive a Corvair with NECC?
Terry Stafford and His Lime Rock Articles. Way back in 1992, Terry Stafford of the Long Island Corvair Association wrote a series of six articles about preparing Corvairs for NECC time trials at Lime Rock, where NECC got its start. Although NECC hasn't had an event at Lime Rock in some time, Terry's articles are still relevant today because they provide good advice for putting Corvairs in tip-top mechanical condition. And he has edited them to make them consistent with current NECC rules and procedures.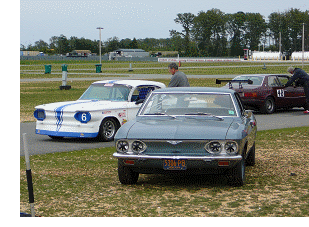 Perhaps you'd like to drive your Corvair with NECC this year at, say, New York Safety Track or one of the sports car circuits at Pocono. If you have never done it before, or haven't done it in a long time, you might want to gain some pointers on what to expect at an NECC event and how to prepare your Corvair for its big day on the track.

And so we are reprinting Terry's articles right here, on the NECC website. Click HERE for a pdf file that includes all six articles.

This series of articles is not just for track guys. Are you bringing an old Corvair out of a deep slumber? Are you hoping to drive your Corvair to a CORSA Convention in a far away city? Terry's articles can help you prioritize the things you need to do to get your Corvair ready for the long haul. And they're entertaining, too.

Naturally, we assume you have the basic mechanical and safety skills necessary to do the work described in the articles. Neither Northeast Corvair Council, Inc. d/b/a NECC Motorsports nor Mr. Stafford shall be held liable for personal injury, death, property damage or loss suffered while engaging in the activities described there.