Corvairs and Chaparrals?
This is one of the many articles published in the monthly NJACE Fanbelt newsletter.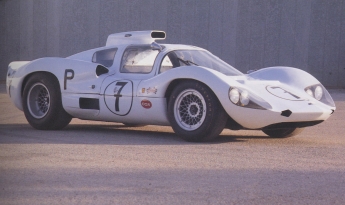 Chaparral 2D. Photo from
Chaparral
, by Richard Falconer with Doug Nye, Motorbooks International, Osceola, WI, 1992.
During the 1960s, Jim Hall and Hap Sharp constructed and raced some of the most innovative racing cars ever built. Headquartered at Rattlesnake Raceway, a lonely private sports car track located in the Texas desert, (not the public oval track of the same name located in Arizona), Jim and Hap developed USRRC, Can Am and FIA World Championship racing machines that baffled the competition. Their Chaparral cars were among the first racers in the world to feature torque box chassis tubs, automatic transaxles, composite wheels, aerodynamic spoilers, wings and ground effects equipment. How could such a small operation develop such advanced vehicles?

It was rumored that Jim and Hap had some help in the development of Chaparral cars. And, as events unfolded, it became apparent that much of this help was coming straight from Frank Winchell's Engineering R&D department at Chevrolet. That's right, the same Frank Winchell who provided GM with engineering support for the legal defense of the Corvair.

Although the concepts behind Chaparral cars were mostly the product of Jim Hall's own creative genius, much of the detailed engineering came from Winchell's R&D department. Chevrolet would work up Jim's concepts, fabricate many of the complex components, and leave it up to Jim and Hap to assemble the machines and race them. This arrangement enabled Frank's engineers to explore cutting edge automotive technology while remaining in compliance with Chevrolet's official corporate policy, which forbade direct participation in motor sports.

Casual observers know that, in terms of styling, the Chaparral 2A, 2C, and 2D racers bear a striking resemblance to the lines that Larry Shinoda penned for the Monza GT show car. And real trivia experts will notice that Chaparral 2As, 2Cs and 2Ds sported Corvair taillights. Yes, when Phil Hill and Jo Bonnier piloted their Chaparral 2D to victory at Nurburgring in '66, the competing Ferraris and Porsches were chasing a set of glowing red lenses lifted from the rear of a '64 Corvair sedan.

But the relationship between Jim Hall, Hap Sharp and the Chevy Corvair was a lot more fundamental than just copycat styling and gimcrackery. Corvair was a catalyst for the chemistry between Chevrolet R&D and Chaparral Cars.

In interviews that lead to the 1992 publication of the book, Chaparral by Richard Falconer, Jim Hall indicated that the exchange of technology began when Frank Winchell asked Chaparral Cars to test Corvairs at Rattlesnake Raceway in 1963. These tests were conducted to determine the absolute limits of Corvair handling and were made necessary by the wave of Corvair lawsuits that were being litigated against General Motors.

In reflecting upon the Corvair handling tests, Jim Hall admitted that the folks at Chaparral were able to flip Corvairs, but he also noted that he could achieve the same result from any car. The following quote appears on pages 56 and 57 of Chaparral: "I did quite a lot of work on the Corvair. I used to drive it around with the tires deflated so the rims touched the ground. We had to show how far out you could get it and keep the car the right way up…. What we found out was that you can turn over any passenger car on dry concrete - and it doesn't matter whether it's a Corvair or a Ford Fairlane. All you needed to do was to be brutal with the steering."

Prior to the Corvair handling tests, Chaparral racecars were obviously the product of independent constructors operating without substantial aid from Chevrolet. The original Chaparral 1 racer was designed and built for Jim Hall by Troutman and Barnes in California. And one of the two Chaparral 2A prototypes, designed and built by Jim Hall and Hap Sharp in their own shops at Rattlesnake Raceway, featured an aluminum block Oldsmobile V-8 as late as 1963.

All this changed after the Corvair handling tests. One of the Chaparral 2A prototypes was shipped to Michigan where its was dissected by Winchell's engineering staff. Shortly thereafter, Winchell's staff reciprocated by transporting their own sports racing prototype, named the GSIIB, to Rattlesnake Raceway for "testing." The GSIIB sported a unique 2-speed automatic transaxle; a feature that appeared on Chaparral 2As during the 1964 racing season. In 1965, Jim Hall arrived at the tracks with a new model, the Chaparral 2C. Underneath the 2C bodywork was a near replica of the GSIIB aluminum monocoque tub. Chaparrals were soon equipped with Chevy engines delivered from Michigan. The engines were equipped with alloy heads, alloy cylinder blocks and Weber-style carburetors fabricated in Chevrolet machine shops. Although there was no further involvement in Corvairs, Chaparral Cars obviously received preferential treatment from Chevrolet until 1970.

However, the Corvair handling issue was not forgotten. In a series of indignant letters written to the federal Department of Transportation in 1971 and 1972, Ralph Nader insisted that the National Highway Traffic and Safety Administration, ("NHTSA"), should examine GM test reports PG15699 and PG17103, dated June 14, 1963 and November 4, 1963, respectively. These two test reports provided incontrovertible evidence that Chevrolet knew Corvairs could be made to flip over. Demanding a federal recall of Corvair cars, Nader asserted that the reports proved that GM's continued defense of the Corvair design constituted an act of "gross negligence".

NHTSA responded to this and other allegations propounded by Nader against the Corvair. In its July 1972 "Evaluation of the 1960-1963 Corvair Handling Stability" NHTSA concluded that the handling tests reflected extreme driving techniques that would result in almost any production car flipping over and thus, GM's test reports were not incriminating against the Corvair in particular.

Is it possible that the GM reports cited by Nader were the product of the tests conducted by Chaparral Cars? Or were the GM reports the result of tests conducted in-house? Given the risks surrounding any kind of litigation, why did Frank Winchell share the Corvair problem with Jim Hall and Hap Sharp? The Corvair mysteries continue….

Sources:

Chaparral, by Richard Falconer with Doug Nye. Motorbooks International, Osceola, WI, USA, 1992.

Evaluation of the 1960-1963 Corvair Handling Stability, U.S. Department of Transportation, National Highway Traffic Safety Administration, Washington D.C., July 1972.

Email correspondence, dated 12/29/99 and 12/30/99, between the author and Carl Thelin, P.E. (ex-employee of Chevrolet Engineering R&D and automotive safety consultant).

Email correspondence, dated 12/28/99 and 12/29/99, between the author and Paul VanValkenburgh), (ex-employee of Chevrolet Engineering R&D and author).