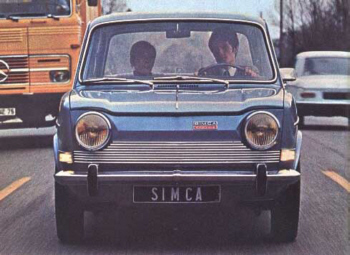 Simca 1000 sedan. Photos on this page are courtesy of the
Simca Heckmotor Club
, (which literally translates to Tail Motor Simca Club).
In May 1972, on the banks of the Passaic River, there was a used car lot with a string of white light bulbs bobbing overhead in the breeze. Located a couple hundred feet from the iron truss bridge between Wallington and Paterson New Jersey, this lot catered to customers with a couple of bucks for cheap transportation. In the front row, rusty Valiants, Tempests and Fords waited patiently for one last chance to prove their worth.

A tiny sedan with a few dings rested in peace in the weeds at the edge of the water. It didn't appear too old, but its owner had cast it aside. Curiously, this little orphan had a pair of Chrysler medallions fastened to its fenders.

Although its paint had turned to chalk, its lines were more architectural than automotive. It's interior was stark, but it had seats that appeared reasonably comfortable. It had no grille in front, but it had louvers on the lid of the trunk. And the trunk creaked open to reveal a tiny engine in the rear. This clever paradox was a Simca 1000, marketed by Chrysler and manufactured in France.

What is a Simca?
The Simca auto company, or more accurately, "La Societe Industrielle de Mechanique et de Carrosserie Automobile", began life in 1934 by manufacturing Fiat cars under license in France. So lucrative was this business that, in 1954, Simca was able to buy Ford of France, which was manufacturing mid-size V-8 sedans at that time.

Simca found a market with these near-luxury cars, but when the European gasoline shortage occurred in the 1956, the company had no expertise to develop a small car of its own. So Simca again called upon Fiat to help, even though Chrysler had already purchased a substantial share of the Simca firm in 1958. The Simca 1000 was the product of this multinational arrangement.

Rear Engine Car, Almost Done Right.
Unlike many rear engine cars, the Simca 1000 sedan was simple, attractive, and cheap to manufacture. Introduced in 1961, it remained in production until 1978, long after most other manufacturers had scrapped their tooling for rear engine cars.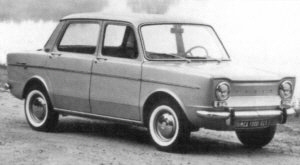 Original styling of the Simca 1000 sedan. Simple and practical.
Styled by Mario Boano, creator of the fabulous Lancia Aurelia B20 GT, the Simca 1000's chiseled appearance anticipated Guigiaro's designs of the mid-1970s. Although ornamentation changed over the years, only one real facelift was necessary to keep it fresh.

Italian creativity was also shown in its engineering, attributed to Mario Revelli di Beaumont and Dante Giacosa. The Simca 1000 was powered by a 944 cc water-cooled in-line four equipped with five main bearings and a cross-flow cylinder head.

Not a performance car, it made do with 12-inch wheels, drum brakes, worm and roller steering, transverse leaf front suspension and swing axles at the rear. Early Simca 1000s were not known for directional stability, although this was cured as we shall later see.

Performance Arrival.
When introduced in 1961, the Simca 1000 was aimed squarely at the economy market, and the car's little engine produced only 45 horsepower. However, from the beginning, Simca 1000s were equipped with a four-speed gearbox and Porsche synchronizers. This was a platform that would lend itself to performance. Within a year or two, Carlo Abarth was offering an 85 horsepower variant with twin Weber carbs.

When Chrysler bought the remaining shares of stock in 1963, Simca was forced to sever its ties with Fiat and Abarth. But, if anything, this had a positive effect on Simca 1000 development. By 1970, the factory upgraded the 1000 with rack and pinion steering, four-wheel disc brakes and fully articulated rear suspension.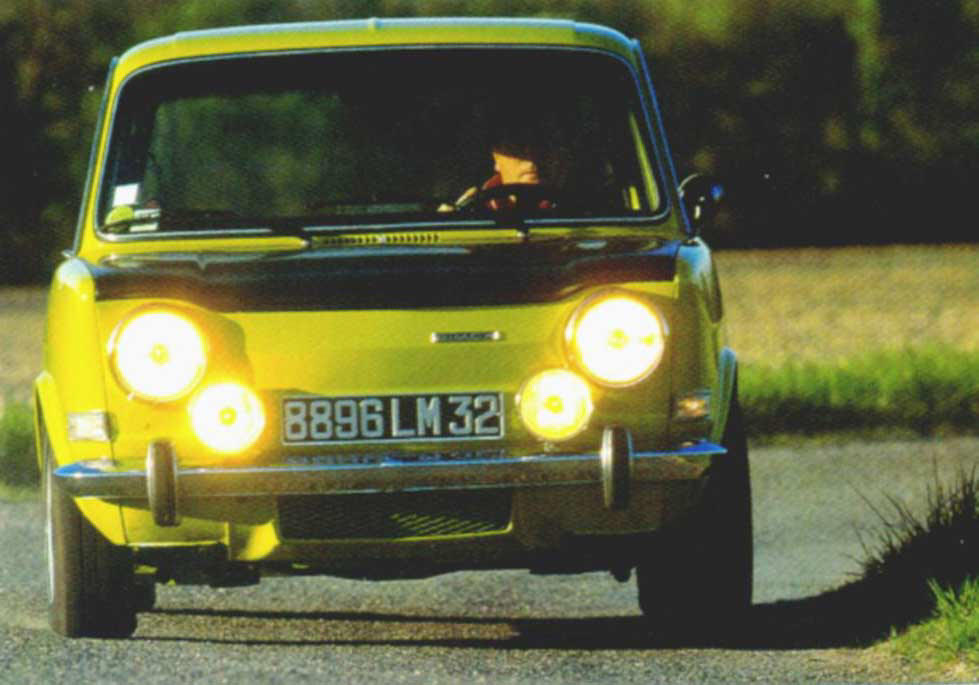 Simca 1000 Rallye 2. Photo courtesy of the
Simca Heckmotor Club
.
Low profile 13 inch radials appeared on high performance models, with larger sizes on the back than on the front. Racing seats, gauges, fender flares and stripes were also part of the package. The fuel tank remained in the middle of the car, where it was safe, but the battery was moved to the front to improve balance. The icing on the cake came in 1977, when the Simca factory introduced the Simca 1005 Rallye 2. It offered all of the above, plus a Group 2 kit that bumped the horsepower to 110 @ 6,500 RPM. Hot stuff for a 1,500 pound car.

Fans of luxury will be pleased to know that, during the 1970s, you could also buy a Simca 1000 with a semi-automatic transmission, crushed velour upholstery, fold-down rear seat, tinted windows and metallic paint. And, of course, a basic economy model was always available.

The Bertone Coupe.
The Simca 1000 Bertone coupe was introduced at the Geneva auto show in March, 1962. Although manufactured in much smaller numbers than the sedan, the 1000 Bertone coupe was another trend setter in terms of automotive fashion. GM's 1965 Corvair Sport Coupe and Fiat's 1965 850 Sport Coupe borrowed styling elements freely from this special Simca.
What Happened?
This company was on a roll and Chrysler liked Simca so much that it began to ship Simca 1000s to America to steal sales from the Volkwagen Beetle. But the cars were never designed for American highways and, like that orphan on the banks of the Passaic River, most were cast away by their owners in a few short years.

Simca 1000s were more happily received in Europe. Sales rose and fell, but over 1.6 million were made before they were replaced in the Simca lineup by, of all things, a French version of the Plymouth Horizon!

Sources. A number of web sites served as sources for much of the information in this article, especially Matt's Simca History Pages, the Simca Racing Team Website, and the Simca Heckmotor IG Website.