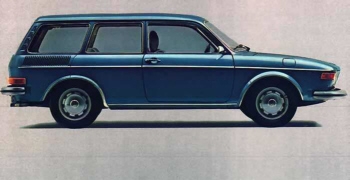 1974 Volkswagen 412 Station Wagen.
Do you remember the Type 4 Volkswagen? The Type 4, also known as the 411 and 412 series, is noteworthy to rear engine auto enthusiasts because it was the last attempt in the world to develop a totally new passenger car based on Dr. Porsche's air-cooled rear-engine concept.

Volkswagen Type 4s were first produced back in the Fatherland around 1968. They were imported to America between 1971 and 1974. That's how long it's been since a major manufacturer took a crack at designing a rear engine car with a usable rear seat.

It's true that, during the 1970s, Volkswagen re-bodied existing models, like the Beetle, to create attractive rear engine cars such as the "Brasilia" for the South American market. Trivia buffs will remember the Tatra 613. But the Type 4 stands out because it was the last mass-produced air-cooled rear-engine passenger car with a totally new engine, new transmission, new suspension and new body.

In comparison to the Chevrolet Corvair, Type 4 Volkswagens were taller, narrower, and more utilitarian. They were aimed at the same sort of pragmatic people who were attracted to the original 1960 Corvair, before the flashy Monza was introduced. Even their horsepower ratings were about the same as the original '60 Corvair, around 80.

Like the 1961 Corvair, there were two door, four door, and station wagon Type 4s. The station wagon had a certain visual appeal; sort of a stately version of the Corvair Lakewood. But, the sedans had very conservative styling.

Later, the folks at Volks learned their lesson. The Volkswagen Passat, (known as the Dasher in the USA), succeeded the Type 4 and was styled inside and out by Giorgio Giugiaro. The Passat was a crisp, pretty design that sold well and saved Volkswagen from going off the deep end financially. If only Volkswagen had lavished this attention to the Type 4, the Passat might today have its narrow-angle V-6 out back, where it belongs.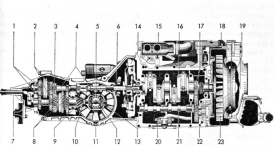 Shown above: Side view of the Volkswagen Type 3 power train. Compact, lightweight, and air-cooled. The Type 4 engine was similar in layout. Source: Fix Your Volkswagen, by Larry Johnson, The Goodheart-Willcox Co., In.c, 1983. Click on the picture for a better view!
Sure, Type 4s were homely, but they had features most enthusiasts can appreciate with a bit of envy. Like all Volkswagens back then, Type 4s were solid as the Bundesbank. They had space-saving McPherson strut suspension up front, which enabled Volkswagen to carve out a decent-size trunk. They also had front disc brakes, for superior wet-weather braking. Radial tires were standard equipment. The clutch pedal was linked to the fork through a hydraulic circuit, eliminating the troublesome serpentine cable common to most rear engine cars.

Type 4s had fully articulated rear suspension rather than swing axles. They were all equipped with Volkswagen's superior heat exchanger system, which was supplemented by a gasoline heater at no extra cost. Type 4s also had the spare tire and battery mounted forward in the body, for better weight distribution. And they had a fuel-injected pancake alloy engine hanging out the rear, making it less tail heavy than most other rear engine cars.

Despite these advances, the Type 4 never really caught on. People used to dress up their Beetles and Vairs with special wheels, special tires, racing stripes, after-market steering wheels, exhaust extractors, rally lights, and lots of other accessories. But few people ever dressed-up a Volkswagen Type 4.

Sadly, the last air-cooled rear-engine passenger car was dismissed by car enthusiasts and phased out of production over twenty-five years ago. Isn't it odd that the rear-engine Porsche 911 is master of the sports car world, but nobody will introduce a new rear-engine passenger car today?