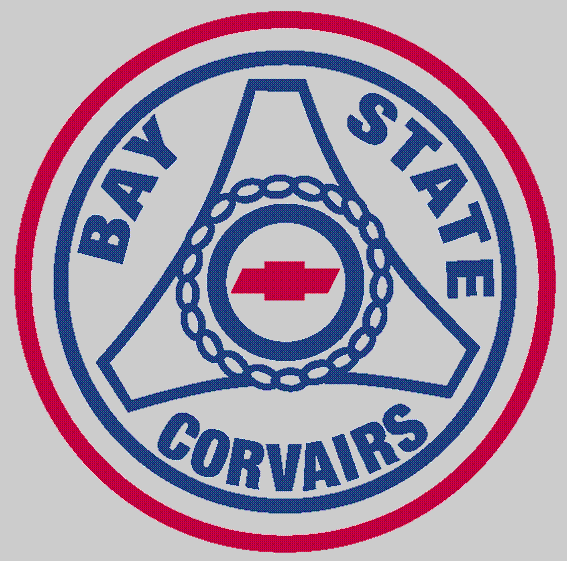 Bay State Corvairs presents the
2017 Biennial Fall Classic
at Clark's Corvair Parts!
Location
As always, The Fall Classic will be held at Clark's Corvair Parts in Shelburne Falls, MA
on Saturday, September 16, 2017 from 9AM till 3PM (Rain or Shine!)
Host Hotel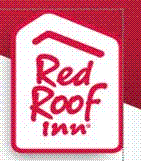 9 Greenfield Road
South Deerfield, MA 01373
Call (800) 874-9000 to book
Be sure to tell them it's for the 'Bay State Corvair Club' to get the reduced room rates!
Registration Form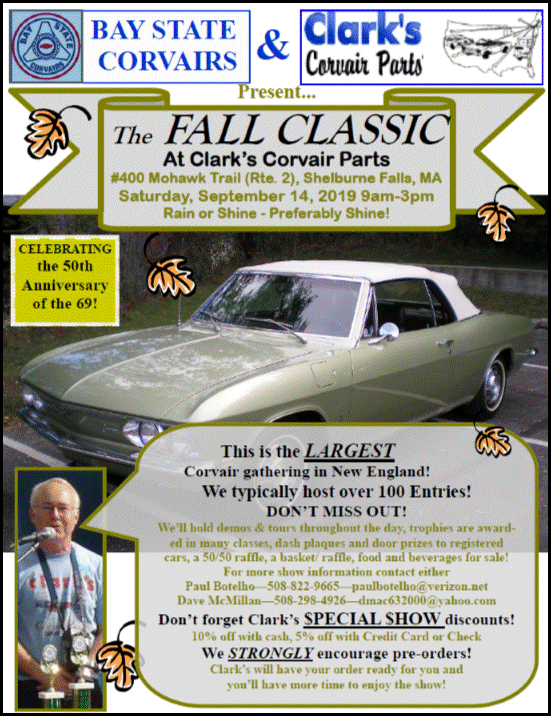 Registration form in PDF
For further registration information, contact Dave McMillan at dmac632000@yahoo.com.
Contact Ray Bombardier at bomma@comcast.net
or Dave McMillan at dmac632000@yahoo.com if you need general event information.
Schedule
Friday, September 15th, 2017
Check-in to the hotel time: 3:00 PM
Hospitality/Pizza Party in the Red Roof Inn Pool Area from 6 to 10 PM
Saturday, September 16th, 2017
Show set up 8 to 9 AM
Registration open 9 to 12 PM
Dash Plaques
People's Choice Car Show 9 AM to 2 PM
Tour of Clark's Buildings Times to Be Determined
People's Choice Judging 11AM to 12PM
Valve Cover Races 12 to 1 PM
50/50 raffle
Silent auction for many baskets/prizes!
Awards Commence at 2 PM
Dine at your choice of local restaurant from 5 to 8 PM (see listing of restaurants below!)
Informal gathering at 8pm for cake, coffee and refreshments, back at the Red Roof Inn Pool Area.
Saturday Night - a taste of the local cuisine!
We invite you to enjoy one of several local restaurants, then join us back at the hotel around 8pm for cake, coffee, refreshments.
Our suggestions for dinner are:
Sunday, September 17th, 2017
On the Road home!
Thanks for joining us! Be safe!