Hello There!
We Do...
Reading Room
NJACE & You

Parts Auctions!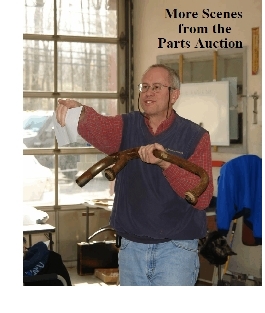 Annual NJACE Parts Auction Staged by our member-auctioneers, this indoor February event provides ample opportunity for NJACE members to get hot deals on Corvair parts plus a few laughs!
What is it?
The Annual NJACE Corvair Parts Auction is an indoor February event that provides ample opportunity for Corvair enthusiasts to buy and sell Corvair parts, and enjoy a lot of laughs!
At the auction our member-auctioneers offer Corvair parts and Corvair-related items to the highest bidder, with a 10% commission of the sale price going to the club treasury. You may bring parts to sell, you may buy, you may do both, or you may just come to enjoy the fun. There is always ample entertainment with jokes ranging from bang-zoom to awful groaners as the auctioneers hawk the many parts being offered for sale. And to top it off, a pizza lunch is included!
As is the case every year, it's impossible to predict the kinds of parts that will be offered, but there is always a good selection. And many of them go for prices that are way, way below those being charged by the big Corvair vendors. For example, sales at recent auctions have seen such items as an NOS Corvair gasoline tank for $170, a pair of NOS '66-'69 rocker panel moldings for $150, and a full set of four NOS '66-69 wheel well moldings for a mere $90. There are always plenty of used parts that sell at bargain prices, too - often for less than $5.
NJACE holds this event every winter, on the Saturday of the Presidents' Day holiday, indoors at Ashley's Auto Body at 274 Hillside Avenue in Flanders, NJ. All Corvair enthusiasts are welcome, not just NJACE members. If you have never been to one of our auctions, you should check it out!
How does the auction work?
All Corvair enthusiasts are welcome and invited! All you need to bring is parts and/or cash, and a folding chair on which to sit. Doors open at 9:00 AM for set-up, we begin the bidding at 10:30 AM, take a lunch break at 12:30 PM, resume the bidding at 1:00 PM, and finish up typically around 2:30 PM. Only at that time can we tally the sales, collect from the buyers, and pay the sellers. it. Due to the nature of how the auction operates, it is not possible to process any buyers or sellers until the auction is completed. For this reason we ask that you plan on making a day of it. We cannot accommodate those who may wish to settle up before the auction is completed.
If you're selling, you can set a minimum acceptable bid for your parts, or no minimum bid at all! NJACE will collect a 10% commission on the sale of parts. You may also donate items for the full benefit of the club. As a seller you should organize your parts at home, so that you can quickly fill out the Lot Cards that will be used at the auction. You can download and print the Lot Cards here and they will be available on-site as well. A Lot Card is needed for each part or group of parts being sold as one, so please allow sufficient time to do this before the start of bidding.
On the morning of the auction there will be time to set up your parts and tag them if you have not yet done so. By organizing in advance at home, setup will be easier. If you don't want to be bothered tagging your parts and you just want to donate them to the club, bring 'em and we'll handle everything for you. (Parts donations have typically been one of our club's largest fund-raisers each year.)
If you're buying, you will be given a Bidder Number which will be used to record your purchase whenever you're the successful bidder. You'll receive your purchases on the spot, but you'll need to pay for them (by cash or check, cash preferred) before leaving. For this reason we ask that you be prepared to stay for the full auction, so that the bookkeepers can record all the sales and tally the results without interruption.
What kind of parts sell well?
Obviously, clean parts in good condition, parts that are less common, and new-old-stock parts. Greasy, broken junk has little or no value, and the auction will prove this to you if you don't believe it. Leave the bent, rusty, broken stuff at home.
We encourage the selling of parts in "lots." For example, sell an instrument cluster and a glove box door together, not as separate items. And we discourage the selling of too many of the same thing. For example, if you have six pairs of cylinder heads to sell, consider offering only one pair at the auction.
Join in the fun!
The NJACE Small Parts Auction is always a lot of fun because it gives us a chance to catch up with Corvair people from across New Jersey and the region. If you don't have any parts to sell come anyway - there are always great bargains to be had and there are always plenty of laughs. The auction is a great way to see a lot of unusual parts and enjoy the competitive bidding. If you're looking for something in particular chances are good that you'll find it there. The best part about the auction is a chance to get together with a great bunch of people.
Question: What else does NJACE do?
Answer: In addition to our annual parts auction, we conduct monthly breakfast meetings, tech sessions, road tours, and social events for our members. We also publish a great monthly newsletter, the NJACE Fanbelt!