Hello There!
We Do...
Reading Room
NJACE & You

We Are... Facts About NJACE.
Question: What is the New Jersey Association of Corvair Enthusiasts?
Answer: Founded in 1970, we are a tax-exempt non-profit New Jersey corporation that caters to people who love Corvair cars and trucks.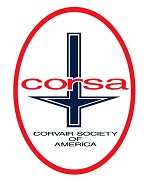 Question: What is the relationship between NJACE and CORSA?
Answer: We are a chartered Chapter of the Corvair Society of America (CORSA). Our Chapter Number is 074.
Question: Is NJACE affiliated with any other organizations?
Answer: Yes, We're one of the several CORSA chapters supporting the Northeast Corvair Council (NECC), a group that organizes high performance driving events at sports car racing tracks.
Question: What else does NJACE do?
Answer: We conduct meetings, presentations, technical sessions, car shows, road tours, swap meets, parts auctions and other social events for our members. We also publish a great monthly newsletter, the NJACE Fanbelt!
Question: Where does NJACE meet?
Answer: NJACE has a variety of meeting locations, with at least one meeting every month. Click here for dates & locations of our upcoming events!
Question: Does NJACE receive sponsorship from General Motors?
Answer: No, NJACE receives no sponsorship from General Motors, Chevrolet Motor Division, or any other GM subsidiary.
Question: How many people are members of NJACE?
Answer: We currently have about 80 single & family members.