Hello There!
We Do...
Reading Room
NJACE & You

Tech Sessions!
An opportunity to gain successful hands-on experience under the leadership of senior Club members.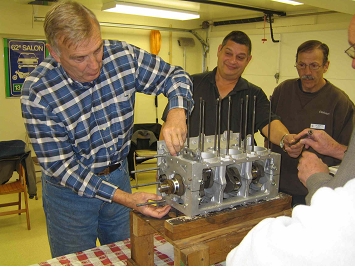 Some of our members have been working on Corvairs for thirty years or more and claim to know every bolt and screw by memory. Others just like to turn the key and enjoy the pleasure of driving a unique and dependable Chevrolet Corvair.

An afternoon Tech Session led by experienced Corvair mechanics includes the camaraderie of 6-10 dedicated Club members and their stupid jokes, the right tools for the job, a pizza break, and the shared joy (and physical workout) of an afternoon of shade tree mechanics. The afternoon typically winds down as we send a fellow Vair owner home with a professionally completed repair.

Here's a situation typical of our Club. One of our new members, Bob, bought a 1966 Corvair Monza convertible. With no prior Corvair experience, he joined the Club as a resource for his car questions: What does it need? Where to buy parts? Who to trust for repair advice? How to maintain the car?

Driving the car to his first Club breakfast, members all congratulated him on his purchase, all came over to his car in the parking lot to kick the tires after breakfast, and recommended scheduling his car for a thorough evaluation on the lift as part of the next month's tech session.

At the next month's Tech Session, scheduled projects included replacement of assessment of Bob's car, installation of a new set or rear springs and shocks on Dave's '67 coupe, and replacement of a rear wheel hub on Larry's '65 coupe. With the '66 convertible on a lift and a Clark's Corvair Parts catalogue in hand, in about 30 minutes Club members determined several future tech session projects for Bob's car and helped develop an accurate list of parts for him to order (always fun to tell fellow members how to spend money).

Participating in both Larry's rear hub replacement and Dave's rear spring replacements were valuable introductory experiences for Bob since both hub and spring replacements would be part of the Club's future Session on his '66 convertible. ....And several months later, Bob's entire rear suspension (rear hubs, u-joints, springs, strut rod bushings, and control arm bushings) were replaced in an afternoon by an energetic team. By 4pm, the job was done. ...Next Tech Session project for Bob, converting from single to dual exhaust.

Question: What else does NJACE do?
Answer: In addition to tech sessions, we conduct monthly breakfast meetings, road tours, social events and an annual parts auction. We also publish a great monthly newsletter, the NJACE Fanbelt!