NECC Motorsports - We're all about high performance driving. Sign up for our track days and more!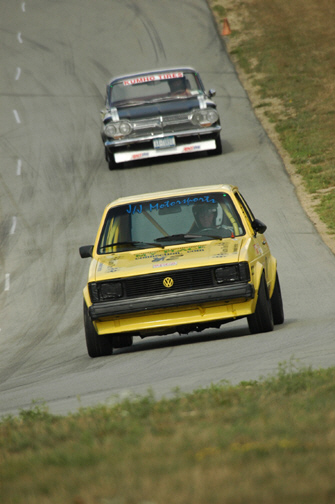 Corvair Racing Team Jackets!
These high-quality Corvair Racing Team jackets are available from John Lanning at Derby City Corvair! The Derby City Corvair Club started this project to draw more attention to the racing aspects of Corvairs and to also support the Corvair Society of America by donating all the proceeds from jacket sales to CORSA and the CORSA Racing Fund.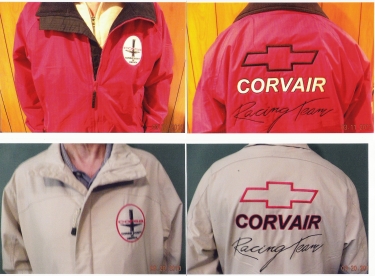 Red Jacket Men's 'competitor' all-business style jacket #jp54 red, with contrasting true blue navy fleece collar, HD matching zipper, slash zippered pockets, lightweight sporty style with elastic waistband, elastic cuffs with adjustable hook and loop tabs, inside zippered pocket, easy care, outside shell: 100% teklon nylon microfiber twill with water resistant lining. Also available in blue or gray colors.

Tan Jacket Men's micro twill bomber jacket #88103 tan, contrasting coil zipper, side zippered pockets, fashionable bomber with narrow elastic waistband for a comfortable fit, adjustable snap button cuffs, inside zippered security pocket, easy care, outside shell: 100% polyester microfiber twill, with water resistant lining. Available in tan only. CLICK HERE for an order form (pdf file). Print it out and mail it Derby City Corvair with your check today!
Did You Ever Wonder...
Where can I get that Dash Plaque, Poster, or T-Shirt that I forgot to purchase at that Corvair event? Well, here is the place to purchase those items. NECC and Bayshore Corvair have a LIMITED number of Dash Plaques, Posters, and T-Shirts for sale from past Corvair events at Lime Rock. Don't miss out on the chance to own one or more of these collectible items. Supplies are limited and once they are gone, that's it. NECC's Roy Buckridge will be happy to take your order. Click here to send an email to Roy.

NECC Dash Plaques. We have the following metal dash plaques for sale for $2.00 apiece:

Dash plaques of the 2" x 3" style:
1984, 1985, 1987, 1989 (only 1 left), 1991, 1994, 1995 (only 2 left), 1996, 1997, 1999 and 2000.

Dash plaques of the 3" x 3" style:
2001, 2002.

All have an adhesive strip on the back for easy mounting. Shown below are images of some, but not all, of the plaques we have in stock. Click here to order them from NECC's Roy Buckridge.


Special 1992 Poster.
24" x 19" poster from our 20th Annual Event in 1992. It's yours for $5.00. Only 9 left in stock! Click here to order them from NECC's Roy Buckridge.

home | announcements | what is necc | typical event | rule book | testimonial | lap times | officers | web links | taste of track

This page was last updated 11/26/19 by redbat01@verizon.net