Following the successful introduction of the Corvair coupe in 1960, Chevrolet introduced the truck/van platform in 1961. The Corvair 95 panel van ("Corvan', model 1205) was conceived in a burgeoning market for light duty delivery vehicles dominated in the late 1950s by European automakers. As described by Alex Mair in his 1961 SAE paper "The Corvair 95 -- Chevrolet's Space Age Panel Truck", GM's engineers wanted to sidestep weaknesses in the VW Transporter and Willys-Overland FC-150 and better satisfy preferences of the domestic market. With a broad market intended for the full line of Corvair-95 vehicles, the Corvan benefited from features serving commercial applications, recreational uses, cargo hauling and passenger transport, with equal attention paid to functionality and aesthetics.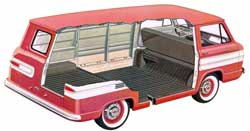 The designers and engineers were amazingly successful. Cargo volume (191 cu-ft) and payload (1795 lbs) were maximized by forward-control steering, semi-unitized (bolted and welded) body construction, and a rear-located, air-cooled engine. The corvair's rear-engine facilitated several design objectives, such as helping to balance fore-aft weight distribution and assure excellent rear wheel traction. With removable panels over the engine and transmission/transaxle, the powertrain could be fully accessed from above and below. Narrow 95-inch wheelbase, four-wheel independent suspension and optional 4-speed and automatic transmissions helped to achieve superb handling characteritics.

The rear engine and semi-unitized body construction also ameliorated well proportioned overall height and width that contributed to overall polished styling. With no engine to squeeze between the seats, the cab was exceptionally roomy and afforded comfortable driving; and with no obstructing longitudinal driveshaft, the rigid chasis could be located only 16 inches above ground. This all represented significant engineering and design accomplishments for the time.
Nevertheless, as standardly equipped the Corvan was rather austere transport. Corvair 95's were expensive to manufacture, and to be competitive costs were reduced as much as possible. Particularly, vehicles sold for commercial delivery fleets had minimal outfitting. A standard Corvan delivery vehicle carried only the left-side cab seat and right-side cargo doors. A direct air heater was definitely a luxury, and gas heater more so. The outside world could be viewed only through windows in the cab and rear doors, though optional elsewhere. The contoured dash of the Corvair-95 was gracefully styled, especially with two-tone painting matching the exterior, but carried minimal instrumentation (speedometer, odometer, and fuel).

In 1963 GM stripped the Corvan further, removing as stock the rear door windows, inside rear view mirrow, engine rear grill, and briefly even the glovebox door (see 2006 CorvanAntics Vol 34 #2 for more on these seemingly desparate cost-cutting measures).
Corvans could be customized with assorted options - though one might ponder how consumer expectations have changed since the 1960s -some that by today's standards would be essential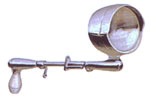 (radio, clock, dome light, and right side passenger seat, etc.) and others peculiar (gasoline heater; and side-mounted safety-lights) -see tables below for full list of standard and optional features.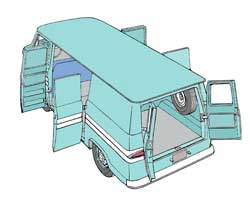 When ordered with left-side intermediate doors an "8-door" model was delivered. With doors on the driver side the cargo area was accessible from the curb or street (or either side of a tight alley), ideal for delivery vehicles. 8-door Corvans and Greenbriers are much less common than the standard 6-door models, but since vehicle coding did not record number of doors, the exact number that rolled off the assembly lines is unknown.