The Loadside is the enigma of the Corvair 95 line. The original design called for a large storage compartment in the midsection located below a level floor with access doors on both sides. The intent was a vehicle that would closely resemble the VW T2 pickup of the day, but without the fold down sides. The left side compartment door is shown in this image of a styling model.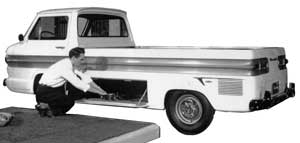 (See other images of early styling bucks on the History page.) Ironically, the Loadside's namesake storage area never made it into production, sacrificed as a cost-saving measure. The result was a Rampside-like midship cargo area that could only be accessed by hauling the payload over the elevated rear engine compartment. Loading from the side, possible with the Rampside's side gate, was not possible in the Loadside.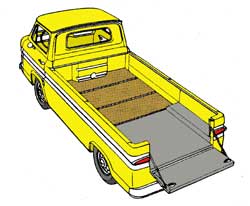 In lieu of an integral subfloor compartment, optional plywood floor panels were available for those wishing a full-length flat bed. This reduced the cargo space to about 37 cu ft. When these panels were installed in the Rampside, the 23 cu ft storage space below the panels was exposed when the side gate was lowered, but when installed on the Loadside, this space was effectively inaccessible. Price-wise, the Loadside was the Corvair-95 low-end model, yet had to compete against its sister model, Chevy's traditional front-engined pickups, and FC pickups from Ford and VW.
There may have been reason for hope. GM didn't intend for the Loadside to replace its traditional front-engined light-duty pickups, but the Loadside held its own. Consider the Chevy's 6 1/2' 3/4 ton Stepside pickup: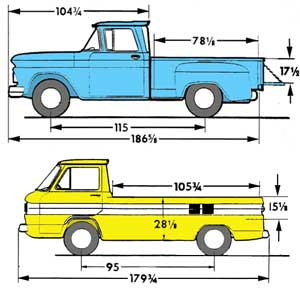 Loadside
Stepside
Price
$2079
$1991
Wheelbase
95"
105"
Engine
80 HP
135 HP
GVW
4600 lb
5200 lb
bed length
105 3/4"
78 1/8"
Payload
1990 lb
1550 lb
cargo volume
82.5 Cu ft
39.6 cu ft
% vehicle length
59%
44%
Front - rear
weight distr.
52% - 48%
1% - 99%
Sources: Mike Mueller. 2004. Chevrolet Pickups
Not surprisingly, the stepside had the upperhand in engine HP, but in almost every other way the Loadside seems superior.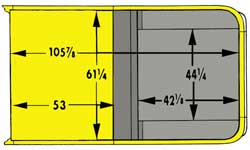 The loadside had larger maximum payload and cargo handling volume. It's small 95" wheelbase, four-wheel independent suspension, and remarkably consistent weight distribution under loaded and unloaded conditions all yielded superior handling characteristics. It also compared favorably to FC pickups from other automakers (see discussion of other FC pickups on the Other FCs page). Considering its great styling, capacity and features, who wouldn't want a Loadside?
Apparently lots of people. The inconvenient cargo loading, less macho styling than a conventional pickup, unrealized fleet sales, price-undercutting by competitors, and a more practical Rampside sister model, all orphaned the poor Loadside. Only 2844 units sold in 1961 and 369 in 1962 before it was phased out. But high quality + distinctive styling + low production is the equation for a rare and highly collectable vehicle!