Of the four Corvair 95 models, the Greenbrier had the longest run. In the first production year of 1961, almost 58,000 units were manufactured, but like other models, production tailed off until it was phased out in 1965 with only 1,528 sold. Like the corvair cars, the Greenbrier suffered bad press related to engine oil leaks and stability of the swing-axel rear suspension, but competition with the less expensive Ford Econoline and VW van also took a toll.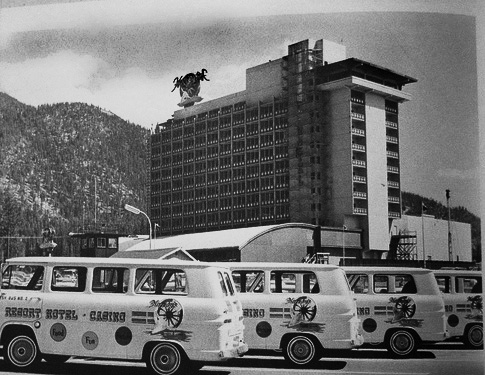 Fleet of Greenbriers lined up outside Harvey's Casino in Lake Tahoe, Nevada. Image provided by Tom Hughes.
Ironically, the swing-axel independent rear suspension underpinned much of the appeal of the Greenbrier as a large passenger vehicle by affording a ride more comfortable than that of other similar sized vans. And even with the stock 80 hp engine, the Greenbrier had double the horse-power of the VW van and a smother ride under a load. GM referred to the greenbrier as a station wagon, but is more accurately viewed as minivan, well anticipating the ubiquitous carry-all of late-20th century families. By way of comparison, the wheelbase of a 1984 Dodge Caravan was 112 inches. As a passenger vehicle the Greenbrier was outfitted with cargo area windows, and rear bench seats. The cab seat and a single rear seat were standard, but an optional third seat was available and afforded seating for nine passengers. The seat in the center position was reversible, facing passengers to the rear and possibly sharing an optional table with the third seat. Alternatively, the rear seats could be removed allowing for greater hauling capacity in the cargo area. Some Greenbriers were equipped with an additional set of doors on the driver side, and a deluxe package with interior panels and other features was also available.
With windows around, flexible configuration, large 175 ft3 cargo space, and sharp styling, the Greenbrier sports van was one of the most innovative passenger vehicles in automotive history.